Vienna House Diplomat Prague

Address: Evropska 15, 16041 Prague, Czech Republic

Tel: +420 296 559 111

Email: info.diplomat-prague@viennahouse.com

Website: https://www.viennahouse.com/en/diplomat-prague/the-hotel/overview.html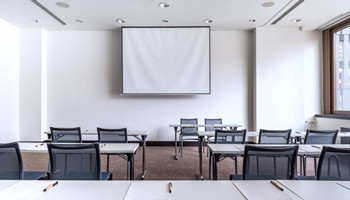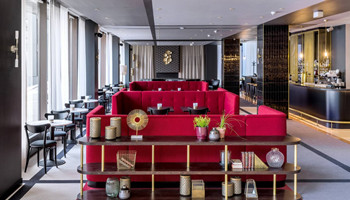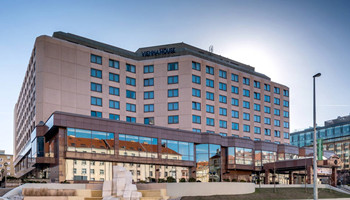 The Vienna House Diplomat Prague is located in the diplomatic district, close to the historic centre. Where better to meet and enjoy the good life than where diplomacy prevails? The hotel is one of the most popular conference venues and the views over the rooftops alone make a visit worthwhile. From the wellness area the Castle seem within one's grasp. The hotel is situated in the peaceful diplomatic district, right next to the historic city centre and its attractions. Immerse yourself in the Golden City, the City of 100 Spires, the Venice on the Vltava River.

Getting There
By Train:
From the main railway station:
The easiest way is to take the nr. 26 tram towards Divoká Šárka and alight at Dejvická.
(Journey time: approx. 20 mins. Fare: approx. EUR 1*)

By Air:
From Prague Václav Havel Airport:
Take the nr. 119 bus (the bus stop is located directly in front of Terminals 1 and 2) to Nádraží Veleslavín. Change here and take the Line A underground train in the direction of Depo Hostivař. Alight at Dejvická.
(Journey time: approx. 30 mins. Fare: approx. EUR 1*)

By Car:
From Vaclav Havel Airport Prague:
Leave the airport on Aviatická and after 1 km take a slight right onto Lipská. Drive for 2 km and then take the exit toward "Praha-centrum/Ruzyně". Turn right onto K Letišti. Continue on Evropská for 6.5 km. The Diplomat Hotel will be on the right.
Distances
Nearest underground station Dejvicka: 100 m
Prague Castle: 1.6 km
City centre: 4 km
National Theatre: 3.6 km
Main railway station: 4.5 km
Congress centre: 6.3 km
Václav Havel Airport Prague: 11 km
Lodging Recommendation
1. The Golden Wheel Boutique Hotel Prague (1.41 km from Conference Hotel)
Address: Nerudova 217/28, 118 00 Malá Strana, Czechia
2. Lindner Hotel Prague Castle (1.51 km from Conference Hotel)
Address: Strahovská 128, 118 00 Praha 1-Strahov, Czechia
3. Red & Blue Design Hotel Prague (2.6 km from Conference Hotel)
Address: Holečkova 13, 150 00 Praha 5, Czechia

Or you could choose other nearby hotel to complete the room reservation by booking.com or Agoda.